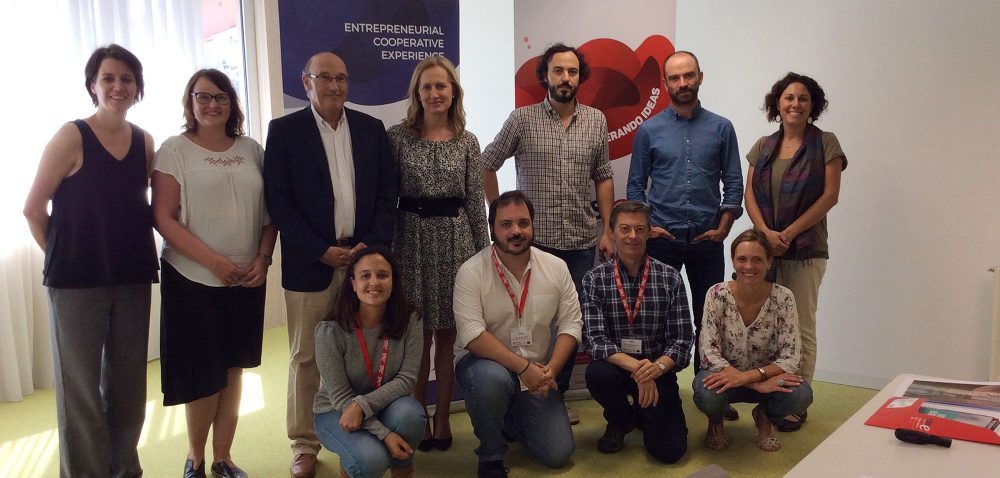 29 Sep

ECOOPE partners spearhead the cooperative entrepreneurship with the project's future guidelines

Posted at 13:15h

in

News

0 Comments

Notice

: Undefined index: HTTP_USER_AGENT in

/home/ecoope/web/youth.ecoope.eu/public_html/wp-content/themes/bridge/includes/shortcodes/shortcode-elements/social-share.php

on line

51
The initiative, lead by the University of Cantabria and Santander International Entrepreneurship Centre, promotes the cooperative entrepreneurship spirit to improve European high school and university students
The ECOOPE (Entrepreneurial Cooperative Experience) partners met in Santander to discuss the future guidelines of this project co-funded by the European Union and lead by the Santander International Entrepreneurship Centre (CISE) and the University of Cantabria (UC). Since last May, ECOOPE is promoting a cooperative entrepreneurship spirit and entrepreneurship skills of high school and university students from all over Europe to improve their employability.
The UC vice-rector for Students and Entrepreneurship, Consuelo Arranz, welcomed the representatives of the European institutions that take part in this initiative and claimed that ECOOPE is "a pioneer project in the European Union" whose results will be the starting point of new programmes or initiatives. Also, she highlighted how that collaboration between the UC, CISE and the other six European institutions involved in ECOOPE means "an interesting source of enhancement".
Santander International Entrepreneurship Centre director, Federico Gutiérrez-Solana, made a brief presentation of all the programmes and activities organised by CISE, that will celebrate its fifth anniversary soon, and stated that "ECOOPE bets for a new line that encourages the cooperative business model from people's entrepreneurship values". According to Gutiérrez-Solana the project, whose main goal is to promote European youth employability, places "the University of Cantabria and our region in the spearhead of the European entrepreneurship".
Cooperative entrepreneurship education is key for this initiative that in the next few months will implement innovative and educational actions meant for secondary education and university students. For the design of these ground-breaking programmes there's an ongoing data gathering, which is searching for already existing good practices about cooperative entrepreneurship in Europe. The best will be compiled in an open source guide.
The results of ECOOPE, which will be open source for everyone through our website youth.ecoope.eu, and will be presented on an international event that will be held in spring 2018 in Santander.
Besides CISE and UC, ECOOPE is a collaborative initiative with another six European institutions specialised in the cooperative business model, the design and implementation of entrepreneurship programmes for young people and educative institutions such as Co-operative College (United Kingdom), Euricse (Italy), the  Lappeenranta University of Technology – LUT (Finland), PEEP – Policy Experimentation and Evaluation Platform and the University of Porto (Portugal) and Valnalón (Spain).