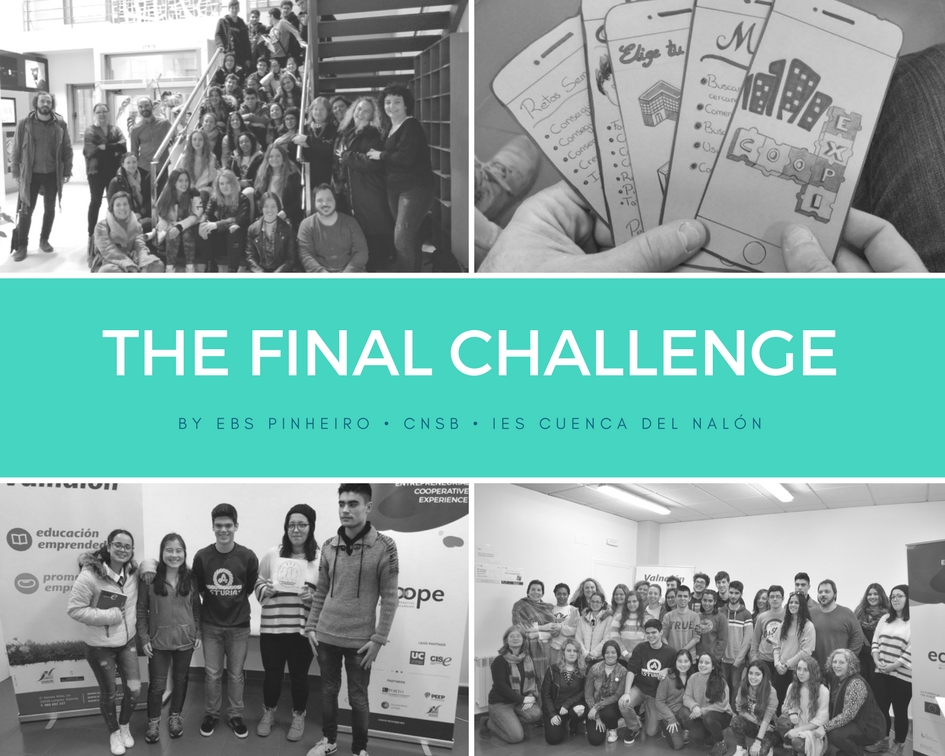 14 Feb

ECOOPE – Secondary Education Pilot – Day 5
Day #5 – The final challenge
The last day of the ECOOPE pilot finally came: the work we did through the week was shown today – we reflected the teamwork spirit very well!
Prior to presenting our ideas we had some time to make final adjustments and to divide tasks in order to make the actual presentation before our audience in a clear, organised way.
All teams launched their outputs to ASATA (Social Economy and Labour Companies Association in Asturias).  If you haven't read previous posts, the challenge we had to solve was introducing co-operatives and social economy to other students/young people our age.
These are the projects the teams came up with:
«INTERCOOP» – based on getting in touch with cooperatives and carrying out workshops to give visibility to this business model
«FIRST COOP» – a space (provided by educational institutions for instance) to do different activities, inform and support 14-30 year olds interested in co-operatives
«VIRTUALCOOP» – an app that allows you to virtually visit a cooperative and get in touch with your local social economy association
«COOPEXPI» – a game that simulates a co-operative and increases the user's creativity through weekly challenges with prizes, while teaching the user about the functioning of a co-op, teamwork, partnering with other co-ops and interviewing potential co-op members
«BE YOUR OWN BOSS» – thanks to drama dynamics and storytelling, this short film shows how people can feel motivated to create a co-operative and how different it is from a paid employment.
What have we got out of this experience?
Apart from learning about social economy and co-ops, we have learned to build something together, to defend and share our ideas, and to feel comfortable speaking to a crowd, accepting both good and bad comments as a way to grow professionally.  We were shocked by the fact that it all went very well and how the different groups could do such great projects in teams despite the language barrier – we even got really shy people to speak up in the end!-.
To sum up, something that looked really complex to do in the beginning was achieved through collaboration, hard work and persistence. They are key skills and worth it to get to your goals and it will definitely help us in the future.
Thank you for this amazing experience, we will never forget it.